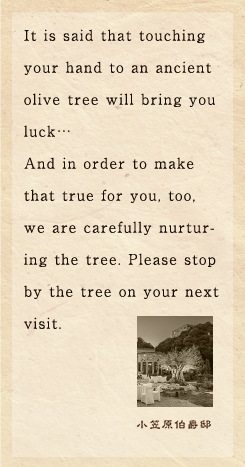 Long ago, in 1613, around the time when Tokugawa Ieyasu was Shogun, Japanese were dispatched to Spain as the mission and crossed the Pacific Ocean and the Atlantic Ocean and for the first time. The purpose was to establish trade relations with Mexico, which was a Spanish territory at the time. It is now engraved in history as a critical event forming Japan-Spain relations. Four hundred years have passed since then, and Japan and Spain have continued to promote mutual exchange in a wide range of fields starting with cultural to political, economic, tourism, education, and other programs.
In this year that marks the 400th anniversary of Japan-Spain relations, we have planted an olive tree in the center of the garden. This large commemorative tree, estimated to be 500 years old, crossed the sea from Spain's Andalusia and has now firmly taken root, sprouting fresh, green leaves.
On September 25, 2013, the Spain ambassador attended the unveiling that took place on the same day as Spain Night and offered this warm greeting, "The arrival of this tree has made this place complete. It will surely continue to watch over us from this day forward." It is not unusual to see 2,000- or 3,000-year old trees in Spain and contained in the ambassador's speech were the wishes that this 500-year old tree would watch over Japan-Spain relations and the Count Ogasawara Residence for many years to come.
At this Residence, we actively hold events introducing Spanish arts and cuisine in an effort to act as a bridge between you and Spain.