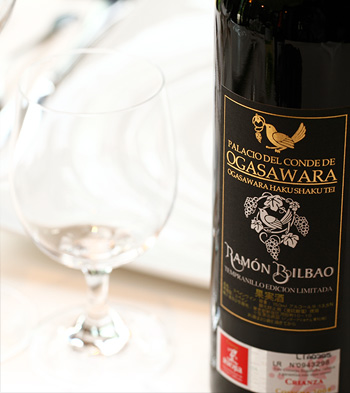 For those of you who have not yet discovered the wonders of Spanish wines, pleae visit Ogasawara-hakushaku-tei. Spanish vineyards produce grapes bathed in the Mediterranean sun. Their rich and mellow scent and taste fill your heart.
White wines burst with the flavors of fresh fruit and a touch of magic. Red wines with well-balanced sweetness, zest, and a hint of sourness. Grapes were cultivated from antiquity in Spain, and their quality is first-class. In addition to this tradition,
wine-making techniques have improved dramatically over the past few years, and new wines comparable to French wines are produced one after another. Now is the time to get to know your Spanish wines. At Ogasawara-hakushaku-tei, we have a selection of wines of high quality at reasonable prices. Two bottles of casual wine instead of one bottle of expensive wine. We can select your best partner for your cheerful table full of smiles.

Ogasawara-hakushaku-tei original sparkling wine
Wine-producing area of Rueda in northwestern Spain/Verdejo variety

A pale green color imparts youthfulness,
as the balance of toasted and fresh fruit aromas
play out in exquisite harmony.
Ogasawara-hakushaku-tei original white wine
Rueda region/ Verdejo variety

Aromas reminiscent of white flowers and yellow fruit
broaden with the aroma of citrus fruit.
Elegant acidity and minerality
gives structural support to the wine.
Ogasawara-hakushaku-tei original red wine
Rioja region/Tempranillo variety

A complex aroma reminiscent of raisins and fragrant wood is followed by
a sensual and beautiful minerality that delivers
an elegant finish of
lingering complex flavors.